Stages anglais Summer 2021
Stages anglais pour 3 à 6 ans et 7 à 10 ans
La thématique des 3 à 6 ans est « 3, 2, 1 Blast off! »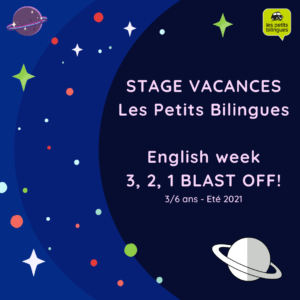 La thématique des 7 à 10 ans est The Spy Quest.
Scenario: A new knight arrives at Camelot Castle. Join Lancelot and his fellow knights
as they live in the kingdom. Meet King Arthur, Queen Genevive and everyone else
along the way. Help Lancelot on his journey to be a true Knight of the Round Table.